Castleman Carpentry offers a wide variety of cabinet finishes from stained, to painted to specialty glazes and antique finishes. Homeowners will select their finish from samples provided. We are always looking to expand our collection and will work with our homeowners to create custom finishes when necessary.
All of our finishes are professionally applied.
Our stained finishes are hand rubbed to bring out the rich texture of the wood. We offer both clear and toned topcoats to achieve the desired color saturation.
Stain enhances the inherent beauty of each wood type.
Natural characteristics such as wood grain, mineral streaks and knots may become more prominent which may create variances in the color of each piece.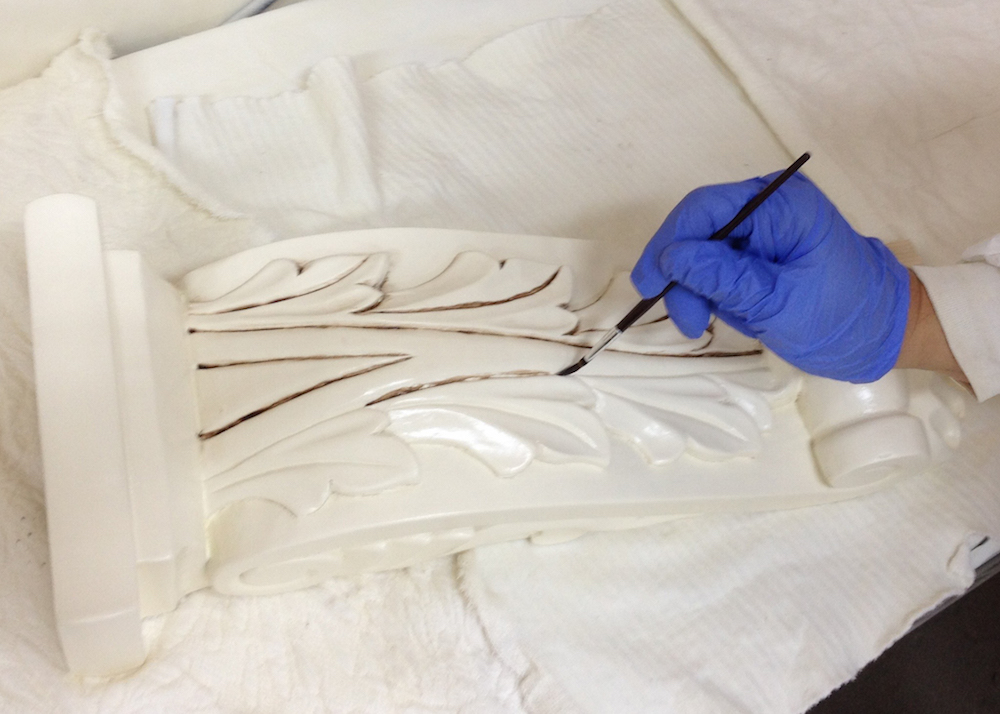 Our glazed finishes are custom finishes that start with a stain or painted base coat. A flood coat of glaze is hand applied to designated areas and hand wiped, thus enhancing the recesses, niches and corners of the cabinet door.
Glazing is a hand detailed technique where by no two doors will look exactly alike.
Amount of glaze, color of glaze and glazing technique will be discussed with homeowner prior fabrication.
Our painted finishes are layered pre-cat lacquer finishes for durability and rich beautiful color.
The characteristics of the wood is less apparent with a painted finish
Maple is the preferred wood species for painting due to its smooth appearance
Wood naturally expands and contracts, you may notice hairlines in the finish at the cabinet joints. These joint lines are normal and do not affect the strength of the door's construction.
Our antiqued finish is a labor intensive finish that turns back the hands of time. With precisely placed dings, sand throughs and pigmented washes, the heirloom quality cabinet emerges.
It is not uncommon to incorporate glazing techniques with antiquing.
With random distressing & hand applied techniques, no two doors will look exactly alike.
Our Finishing Process
Wood Selection – only the highest grades of wood are selected
Wood Preparation – Utilizing a combination of state of the art sanding machines and good old fashioned elbow grease our cabinet parts, doors and trim are prepared for the finish room.
Color Application – Hand detailing and rubbing creates a unique warm base coat ensuring proper absorption, followed by 3 coats of atomized pre-cat lacquer sprayed on all fronts (2 coats on backs) for a durable smooth finish. Hand sanding between coats provides a silky smooth texture.